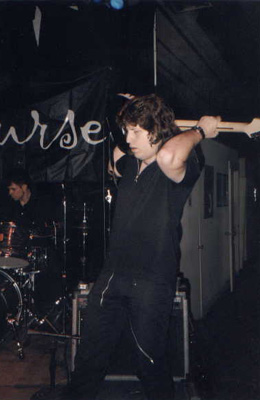 Kevin Michaels

Musical education:
Vocal lessons from opera coach Katie Agresta
and Tony Harnell of the band TNT.
Took violin and learned to read music in public school.
Guitar: Self-taught, no formal training
but has given guitar lessons.

Prior endeavors:
Solo projects and spoken word recordings.
Weirdest instrument owned: The Theremin

Listening to recently:
Alien Sex Fiend, Judas Priest, The Killers, Blondie,
Echo and The Bunnymen, T-REX, The Who,
Tom Waits, Bob Dylan, David Bowie,
David Amram, Cab Calloway.

Grew up in: Brooklyn, NY

Birthday: March 18th

Interests: Creating independent art in all its forms!

Favorite films: The Breakfast Club, Ed Wood, Rain Man,
classic Universal Monster movies and Pink Floyd's The Wall.

Pet peeves: When a pet peeves in my guitar case.

Favorite dinosaur: T-Achyglossus aculeatusaurus! (extinct)

Favorite guitar trick stolen from Hendrix: playing behind my head.

Favorite food: Sushi, particularly eel. And salmon, baby!

Favorite condiment: Hot sauce, pickles and relish.

Favorite mythological beast: Minotaur

Identity crisis: Thinking I'm a vampire.