Mikaela Pearson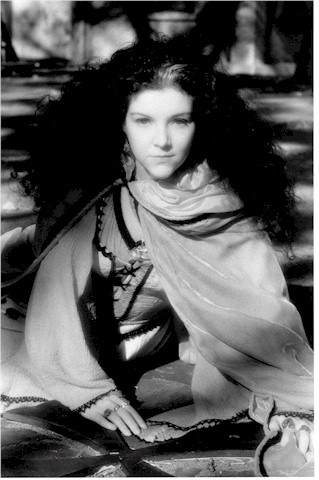 Musical education: Many teachers, many years. Random chaos. Most recently, learning Orisha songs from Lisa Maria Salb.

Prior bands:
Jezebel's Grave, Invisible Cities, SpiderLily, Caledonia.

Listening to recently:
Robert Johnson
Son House
REM
Pretenders
Thomas Dolby
Loretta's Doll
Hank Dogs
Bob Dylan
Etta James
Siouxsie and the Banshees
Jim Lampos
Portishead
Professor Longhair
The Cure
Beastie Boys
Coldplay
Erik Satie
Claude Debussy
Frederic Chopin
Phillip Glass
Toru Takemitsu
King Sunny Ade
Little Richard
Jerry Lee Lewis
Kate Bush
The Reducers
Dandy Warhols
Prince
Jadakiss
Swans

Grew up in: Brooklyn, NYC

Birthday: June 1

Hobbies/interests:
enameling, silversmithing, occultism, tarot, vintage bordeaux, languages, reading,
shopping, museums; general decadence.

Favorite films: Pi, Grand Hotel, Lugosi's Dracula

Selected quote: "Amor Vincit Omnia"

Pet peeves: Too many to list...I am a genuine curmudgeon! For starters: litterbugs,
noise before 11am, slobs...especially flip-flop wearing slobs.

Favorite animal: Grebe

Favorite food: Game bird. Quail, duck or pheasant, preferably with a sage and
fruit sauce. Also mad about sushi, particularly Uni (sea urchin).

Favorite condiment: (spicy) Crushed red pepper or (sweet) real maple syrup.

Favorite mythological beast: Sphinx

Identity crisis: Nope.