Robert Lacyk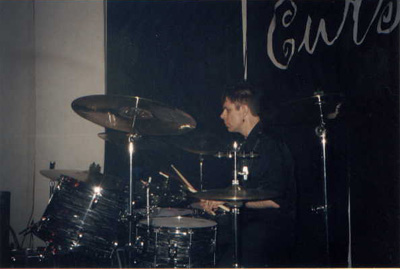 Musical Education: Self-taught. Played along to records in my teens, but
started drumming much earlier: I was annoying my relatives by drumming with
candlesticks and whatever other utensils I could get my hands on when I was
6 or 7 years old. I used to drum on my grandmother's couch!

Previous projects:
Killer Instinct, XKI, Nightmare, Disgrace, The Blue One (blues band), Caledonia

Listening to:
Black Sabbath
Blackmore's Night
The Beatles
The Who
Rush
Siouxsie and The Banshees
The Jesus and Mary Chain

Grew up in: Staten Island, NY.

Birthday: December 30.

Interests: collecting rock memorabilia, filling my home with antiques, movies, cooking, gothic fashion, world travel

Pet peeves: people asking obnoxious questions, especially about my hair style and/or color.

Favorite animal: the typical New Yorker (Newyorkus newyorkus)

Favorite films: The French Connection, The Hunger, Serpico, After Hours

Selected quote: "Just leave me alone."

Favorite food: Chinese, or anything with good wine. "Where's my food?"

Favorite condiment: ketchup, and lots of it.

Favorite mythological beast: Gargoyle

Identity crisis: "I'm definitely leading a double life. Maybe."