Theodora Michaels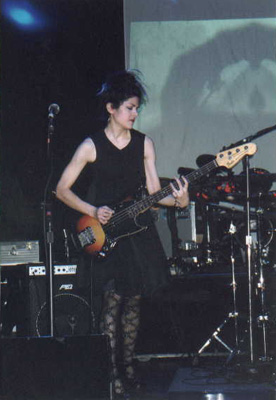 Musical education:
BA in music from Hunter College, magna cum laude.
Guitar lessons from Mickey Leigh.
Prior bands (as guitarist/vocalist):
Shrieking Violets, an all-female punk trio which toured in several states
and Canada in support of their self-titled EP produced by Mickey Leigh.
Notable shows include the first-ever Riot Grrrl show in Washington, DC
and a headlining slot over Green Day.
Ultraviolet, with Kit E. Hawke (now in Dead Emotion) and Tina Lewnes (now in Angel Face).
Listening to recently:
My brilliant sister Melissa the Loud
Bach harpsichord concertos
WolframTones
Eminem
Linkin Park
Blink 182 and other pop-punk
assorted 1960's surf
Also listens/listened to:
The Ramones
The Beach Boys
Alice Cooper
Green Day
Suicidal Tendencies
silly bubblegum music
lots of local bands
Grew up in: Queens, NYC
Birthday: September 12th (no gifts please; give to charity instead)
Hobbies/interests: gardening, seed saving, amateur carrot-breeding; gluten-free vegetarian cooking, sourdough baking, and edible fermentation experiments; hiking
Selected quote: "I'm the one in the striped shirt."
Pet peeves: women wearing shoes they can't walk in, stupid chain e-mails, car alarms
Favorite animal: the puggle!
Favorite food: guacamole
Favorite condiment: Hellfire Habanero Red Savina jam (sadly no longer available).

Favorite mythological beast: Unicorn
Identity crisis: Harmless geek or evil genius? "I should take over the world . . . I've got the intelligence, I've got a checklist, and the tools are available . . . but then I get distracted by something on Slashdot or a sudden urge to learn Quenya."